Gender
Fighting violence through martial arts
As gender-based violence remains a challenge, more women in Zimbabwe are taking self-defense classes to gain skills to defend themselves against abuse.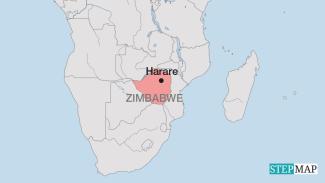 Stepmap
Three years ago, 49-year-old Dickson Muringavi, a resident in Harare was arrested and detained by police for savagely beating up his wife. However, he bribed his way out of police custody. He continued attacking and physically abusing her thereafter and in fact was convicted for aggravated assault after he violently beat her.
Now, those constant attacks stopped. Muringavi's wife, Rudo, joined a karate club that has trained her in martial arts and enabled her to stand up to her husband's violent conduct. The husband is intimidated by his wife's new-found self-defense skills and has ceased beating her. "I have trained in karate and for me it has become a way of life, the only way I have managed to keep my violent husband at bay," Rudo says.
Law enforcement agencies are hesitant when it comes to pursue violence against women. There is lack of strict enforcement of the rights of women and girls. Corruption has also weakened security agencies' ability to fight gender-based violence as many perpetrators are able to bribe their way out of police custody and prosecution before the law.
In the face of weak legal protection, women and girls who face physical violence must turn to alternative ways of ensuring their safety. Self-defense classes and clubs offer this much needed support base for women and girls.
24-year-old Kudzai Mujaji is one of the many women who continue practicing martial arts and she says: "Now well versed with karate, I feel very safe in every aspect of life, even walking alone because I know now I can effectively defend myself."
35-year-old Melody Mudawu, a resident of Harare was attacked by a suspected rapist during the 2023 new year's day celebrations. When the rapist broke into her apartment, Mudawu, hit her assailant with a powerful kick in his stomach, causing him to faint.
Mudawu started taking karate lessons as a 13-year-old teenager. She is a rising karate star who has won several medals and accolades in the sport. She is now an advocate for women empowerment through martial arts to fight gender-based violence.
Similarly, another Zimbabwean young woman, 21-year-old Natsiraishe Maritsa, founded a karate-training group six years ago to help fellow teenagers and young women deal with and prepare for the eventualities of gender-based violence. Her support group brings together underage mothers, married and unmarried women and girls to learn karate and self-defense. Josephat Mutero who runs a gym in Harare, says that "female martial artists are showing abusers and criminals that not all women are easy prey".
Jeffrey Moyo is a journalist based in Harare.
moyojeffrey@gmail.com