Borno state
Nigeria's government wants to close IDP camps
In October, Nigeria's government announced plans to close camps in which internally displaced persons (IDPs) live. The state government of Borno had previously expressed the same intention. The big problem is that it is not safe for the IDPs to return home.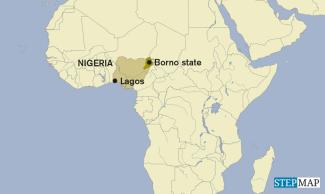 stepmap.de
Imaan Sulaiman-Ibrahim heads Nigeria's National Commission for Refugees, Migrants and Internally Displaced Persons. According to her, IDPs have been staying in camps too long. "We can't continue looking after people that are able to contribute to nation-building." She spoke of creating an enabling environment to allow them to contribute to nation-building instead. Her statement makes sense, but it does not address the main challenge. The enabling environment does not exist, which is why masses of Nigerians struggle to find a livelihood at all.
In May, Babagana Zulum, the governor of the northeastern state of Borno, announced the closure of one of 27 IDP camps in his state. People were sent back to their villages. The governor has also promised to close all camps by the end of 2021. However, the security situation in Borno, where the jihadist militia Boko Haram caused trouble first, is still tense (see main story). According to analysts, 74 civilians and 70 security officials were killed in Borno in the past five months. There has even been an attack on a convoy Zulum was travelling with.
IDPs say they worry about their safety, so they do not want to return home. They doubt, moreover, that they will really get the promised support for farming, such as seed, pesticides and fertiliser. Roland Schönbauer, a spokesperson of the UN Refugee Agency, sees things in a similar light. What really matters in regard to IDP resettlement, he says, is safety, not time.

Ben Ezeamalu is a senior reporter who works for Premium Times in Lagos.
ben.ezeamalu@gmail.com
Twitter: @callmebenfigo