Comment
Close to blowing up
Africa's Great Lakes region is not finding peace. Burundi has been destabilised in many respects, and a similar development looks likely in the Democratic Republic of the Congo (DRC). European and African leaders must act fast to prevent turmoil.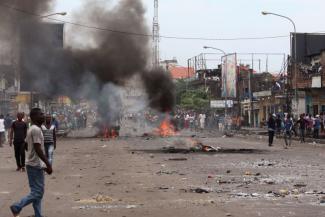 picture-alliance/AP Photo
In violation of Burundi's constitution, President Pierre Nkurunziza has held on to power and plunged his small country into a serious political crisis. About 1,000 dead have been counted since April 2015. More than 8,000 have been detained for political reasons, some 800 persons are missing, hundreds have suffered torture and sexualised violence, whilst thousands have been arrested arbitrarily. More than 310,000 people have fled the country.
Now tensions are growing in Burundi's huge neighbouring country, the DRC (see comment by J. Bashi in D+C/E+Z e-Paper 2016/11). As happened in Burundi, the sitting president, Joseph Kabila,  seems prepared to cling to power, no matter how much turmoil that may cause. Presidential and parliamentary elections were scheduled for 27 November, but they have been postponed, and no new date was set. The majority of the people and the opposition want Kabila to state clearly that he will not seek an unconstitutional third term.
Kabila's second term ends on 19 December according to the constitution of the DRC. So far, he has not revealed his intentions. Making matters worse, he is slowing down relevant procedures without offering any clear timelines. For months, he has been open to all sorts of dialogue, but the most important opposition leaders were never involved, so their demands were not heard.
Once again, the people must bear the brunt of a political power struggle. The young generation is affected in particular. They have never known anything but strife and instability. Security is becoming increasingly precarious, especially in the DRC's eastern provinces. Extreme violence marked massacres near the town of Beni in the summer, and ethnic conflicts are escalating. About 70 different militias operate in the country, and there are worrying signs of former rebel groups being mobilised once again. Civil liberties – including the freedoms of assembly, expression and the press – have been seriously restricted ahead of the elections. Economic development is grinding to halt, and people's daily hardships are getting worse.

Europe must act
If German and European policymakers want to prevent the kind of scenario the world has witnessed in Burundi, they need to take a common and coherent stance towards the government of the DRC. They must prioritise this issue. Political pressure has to be put on those who are in charge in Kinshasa. Targeted sanctions, including the denial of visa and freezing of bank accounts and financial services, should fast hit those high-ranking officers in the government and security forces who bear responsibility for violent repression and human-rights violations. Culprits' family members should be targeted in the same way.
At the same time, the African Union and regional organisations such as the International Conference for the Great Lakes Region must assume responsibility and serve as mediators between the government and the opposition. It is important that African partners tell the government of the DRC to respect the constitution. An escalation of violence would have a devastating impact on the entire region and ruin diplomatic relations.

Gesine Ames coordinates Ökumenisches Netz Zentralafrika (Ecumenical Network Central Africa), a German faith-based organisation.
office@oenz.de