E-commerce
Africa's Amazon
Jumia, a Nigerian e-commerce platform, has been making a difference in consumers' lives for nine years. Nigeria's top online shopping site is often referred to as the "Amazon of Africa". However, Jumia has also faced serious downturns in its history.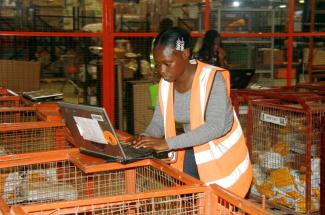 Guo Jun/picture-alliance/Xinhua News Agency
In 2011, Nigeria had 160 million people, but no organised retail sector. Jumia co-founder Tunde Kehinde sums up the business idea. "We said: let's not wait to build malls, let's launch online." Today, Nigeria has 200 million people, and the e-commerce giant has also gained a foothold in other African countries.
Challenges included a weak internet infrastructure, a complicated banking sector and logistical difficulties. Jumia responded by showing consumers that online shopping is safe, building a distribution network of its own and creating a solid logistical infrastructure. Today, Jumia owns a larger fleet of delivery trucks than DHL and distributes goods in eleven countries. To some extent, the company has reduced Africa's geographical fragmentation.  
Jumia's business model enables the company to improve the lives of African consumers. The e-commerce giant helps people buy the goods they want wherever they live. Customers can order products which are not available locally and for which they would have had to travel far in the past. Even for urban people, commuting to the city centre can be very difficult. Jumia clients do not even need a working internet connection. Another person can place the order for them through a specific system on the Jumia website.
Half of Nigerians live in rural areas. Good roads are as rare as formal addresses. Jumia Logistics does not require that kind of infrastructure. It has a vast network of pickup stations and provides services in areas that were long considered barely accessible.
Two thirds of adult Nigerians do not have a bank account. With JumiaPay, the company tailored its payment methods to African needs. It allows customers to pay in cash upon delivery, so it can sell items to people who are still uncomfortable with online payments. Paying in instalments is accepted, too, which allows people to purchase more expensive goods. Moreover, Jumia puts buyers in touch with sellers, so customers can even order things that Jumia itself is not supplying.
Consumers appreciate the digital opportunities. Juliet Osho is an example. She lives in a rural area and says she needed a pilot's suit for her seven-year-old son to wear in school for "career day". A short internet search showed that such an item was available on Jumia, so she quickly made the order. When she brought the suit home only four days later, her son was happy.
Sola Johnson is another Jumia customer. Buying through Jumia is more convenient for her than going to malls or regular markets. It is also cheaper, even when there are no special sales. "Jumia is quite commendable," she says. Once she ordered something for a friend in another part of Nigeria. "The goods were delivered to his house without a hitch after he presented the code I had sent him," she recounts.
Growth strategy
In the future, Jumia is likely to make a difference in even more people's lives. Africa's population is growing and purchasing power has been rising. However, the company does not want to rely on those factors alone. Managers emphasise that they must build customer trust. Jumia must thus provide the right products, set attractive prices and make shopping convenient.  
Jumia started operations in 2012. The parent company was the Berlin-based Africa Internet Group. Jeremy Hodara and Sacha Poignonnec, who had previously worked for the multinational business consultancy McKinsey & Company, were among the founders. Initial shareholders included Rocket Internet, a Berlin-based venture capital firm, and Mobile Telephone Networks, a South African corporation. The French insurance giant Axa and the telecoms corporation Orange also invested in Jumia early on.
The company's first years in operation were marked by rapid expansion. In 2012, Jumia took up operations in Egypt, Morocco, Ivory Coast, Kenya and South Africa. Two years later, offices in Tunisia, Tanzania, Ghana, Cameroon, Algeria and Uganda were launched. By 2018, Jumia was present in 14 African countries.
Jumia started with an initial staff of 10 in Nigeria. It now has more than 5000 employees on the continent. The platform kept expanding into new markets. As early as 2013, Jumia Travel for hotel bookings and Jumia Food became operational. In 2015, Jumia Deals began publishing classified ads from third-party vendors. JumiaPay was launched in 2017 and was soon followed by a lending programme which grants business loans to third-party sellers. Later, a flight-booking platform was created in cooperation with Amadeus, a technology company.
The crisis of 2019

 
However, 2019 proved a difficult year. In April, a spectacular initial public offering on the New York Stock Exchange made the Jumia share price rise by more than 200% in three trading sessions, peaking at almost $ 70. But decline was just as dramatic. Due to allegations of fraud and concealed losses, the share price dropped to less than five dollars by the end of 2019. By that time, Jumia had been forced to suspend operations in Cameroon, Tanzania and Rwanda.
In this period, the management began to push for profitability more aggressively. For many years, Jumia had reported losses, which is not unusual for promising start-ups. The crisis, however, clearly showed that investors were losing patience. The management started to take new approaches to meet local needs, drum up business and become profitable. Jumia launched special online shopping events – Black Friday sales, for example – in order to increase brand awareness.  
In 2019, moreover, Jumia attracted millions of additional customers by partnering with more than 110,000 sellers, many of them African companies and entrepreneurs. Since then, the management has expanded its third-party marketplace, collecting commissions on the items that are sold on its platform. At the same time, Jumia began to focus less on selling high-end digital devices such as mobile phones or laptops. Instead, it repositioned its business to marketing fast moving consumer goods. These items are cheaper, but they attract more customers.
For the second quarter of 2021, Jumia once again reported losses. However, financial markets evidently have faith in its strategy and expect the company to become profitable eventually. In August, the share price was almost $ 22.

Bimbola Oyesola is a Lagos-based journalist.
oritokeoyee@gmail.com