Comment
Take on hate crime
Germany's Federal Government should heed the advice spelled out in a recent report on hate crimes. It was wise to assign the study, and showing unwavering support for human rights means to set the right example.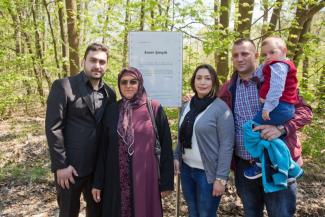 picture-alliance/dpa
German authorities should step up efforts to tackle rising hate crime, according to the German Institute for Human Rights, a government-sponsored think tank. There were 10,373 hate crimes in Germany in 2015, according to the Institute's data, a leap of 77 % from 2014.
The Institute recently published a report on the matter. The document is important not only for its findings but for its genesis. It was commissioned and paid for by Germany's Federal Government as part of its role as this year's chair of the Organization for Security and Co-operation in Europe (OSCE). The report assesses Germany's performance in meeting a range of human-rights standards that apply to all the OSCE's 57 members.
Unlike the United Nations, the OSCE has no mechanism for monitoring human rights in its member countries, which include European nations, the USA, Canada and countries of the former Soviet Union. This is a major problem in a region where serious human-rights violations and restrictions on basic freedoms are common. For this reason, Germany's decision to commission this study – a voluntary monitoring of its own human-rights performance – is most welcome.
The German Institute for Human Rights decided on the report's focus. Both government agencies and civil-society organisations made submissions.
The report defines hate crimes as being "motivated by group-based bias." It criticises the police and judiciary for their handling of the investigations into at least 10 murders between 2000 and 2007 by the neo-Nazi terrorists of the National Socialist Underground (NSU). It states there are clear "deficiencies" in the way hate-crime legislation is applied, especially in regard to the victims of those crimes. Germany needs to better train police and the judiciary on protecting victims, the report demands. It also calls for more comprehensive data concerning the alleged perpetrators of hate crimes, including on the numbers of cases prosecuted and rulings passed. State agencies should also do more to involve civil society in combatting hate crimes, the report says. Finally, it wants Germany to take extra steps to tackle sexual violence and domestic violence, and to prevent human trafficking, especially of children.
Germany is the third OSCE chair to commission a self-evaluation of this kind. Switzerland led the way in 2014 followed by Serbia in 2015. Switzerland says its report has led to government steps to improve human rights, for instance by better training Swiss diplomats on human trafficking.
Germany's self-evaluation is an important signal to other OSCE members that the organisation's human-rights standards are a vital part of its approach to protecting security in the region. It is now up to Germany to take the next step and act on the report's recommendations, putting into practice this human-rights commitment.
It is important that Germany set a good example. Respect for human rights has suffered from the divisive rhetoric of US President-elect Donald Trump during the US election campaign. Kenneth Roth, executive director at Human Rights Watch, has said: "He found a path to the White House through a campaign marked by misogyny, racism and xenophobia, but that's not a route to successful governance. President-elect Trump should commit to leading the US in a manner that fully respects and promotes human rights for everyone." In this worrisome context, it is important that European governments stay unwaveringly committed to upholding human rights.

Hugh Williamson is the director of the Europe and Central Asia division of Human Rights Watch. Human Rights Watch was one of the civil-society organisations that made submissions to the German Institute for Human Rights for the report mentioned in this comment.
williaa@hrw.org
@hughawilliamson
Link
German Institute for Human Rights, 2016: Implementation of selected OSCE commitments on human rights and democracy in Germany.
http://www.institut-fuer-menschenrechte.de/fileadmin/user_upload/Publikationen/Weitere_Publikationen/Implementation_of_Selected_OSCE_Commitments_on_Human_Rights_and_Democracy_in_Germany_09_2016.pdf