Climate crisis
Extreme heat endangers health
Extreme weather conditions in Nigeria are forcing locals to pay attention to the climate crisis. The country has experienced a heatwave that has endangered the health and affected the lives of Nigerians in many parts of the country.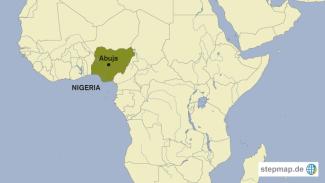 stepmap.de
The Nigerian Meteorological Agency (NiMET) in its April 2022 Climate and Health Bulletin warned Nigerians about the impending crisis. The maximum temperature across the country for April – one of the hottest months – ranged of 37 to 43°C.
NiMET warned that conditions of high heat could result in heat-related illnesses such as increased respiration rate, heat stroke, fatigue, loss of concentration and dehydration. It also warned of incidences of meningitis and malaria escalating. Medical experts have equally warned that high temperatures could worsen the spread and fatality of infectious diseases such as Lassa fever, yellow fever, measles, chicken pox, monkey pox, cholera and Covid-19.
Wole Kukoyi, the chief medical director of the Ace Medicare Clinic in Ota, says that prevailing extreme weather conditions could also lead to more dire consequences, such as kidney failure, stroke, excessive bleeding and skin cancer in albinos.
The situation is made even worse by Nigeria's unreliable power supply. Power outages and load shedding are popular in Nigeria. As a result, many Nigerians cannot use air conditioning. Moreover, rising prices for petroleum products have also handicapped alternative power-supply means like diesel- and petrol-run small power-generators that are popular in the country.
The ongoing heatwave affects even daily businesses. Comfort Ayila, a hairdresser in the Lagos state town of Ikeja has had her business disrupted. Her shop usually hosts many clients at a time but is now almost empty as customers cannot stand the heat.
"I've never seen heat like this before. It's from morning till night, and you will be sweating. Everybody has been praying for rainfall, even if it's for one hour! Let water touch the ground. But even if it rains, the next minute heat takes over," she laments.
Lifestyles have to be adapted to the extreme heat. Ayila is now forced to change her wardrobe and wear more fitting clothes to the prevailing weather conditions. Her customers are also adjusting the hairstyles they wear. "It affects patronage. Everybody complains that heat is too much, people rather wear short hair. No one wants to carry long hair and it's those hairstyles that we make money from," she adds.
James Oyesola, president of UNEP's Ecosystem Based Adaptation for Food Security (EBAFOSA) links the recent spurt of high temperatures to higher emissions of greenhouse gases from socioeconomic activities like energy use, waste and transport. Additionally, he predicts that high temperature above 30°C will affect farm yields of crops such as wheat, rice and maize.
"Inadequate land use and development control, poor drainage and solid-waste management infrastructure have also added to the effects of climate change vis-à-vis high temperature in Lagos state," he said.
For now, experts can only offer advice to Nigerians to withstand prevailing weather conditions. The situation however proves the reality of climate change, and countries must do more to counter CO2 emissions.

Bimbola Oyesola is a Lagos-based journalist.
oritokeoyee@gmail.com