Legal knowledge
Useful e-learning courses on the UNEP website
Browsing the internet, one must be careful about what sources to trust. LEAP is reliable. The acronym stands for the Law and Environmental Assistance Platform, which is run by the UN Environment programme (UNEP). Its 32 online courses offer interesting insights into international law pertaining to ecological issues.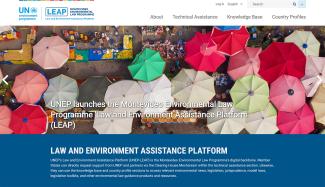 https://leap.unep.org/
The courses cover a wide range of topics, from the international climate regime (see main story), which so far does not fulfil its purpose, to the international framework on ozone depletion, which has proven quite effective. Other courses deal with the Minamata convention on Mercury, the Convention on International Trade in Endangered Species of Wild Fauna and Flora (CITES) or the protection of freshwater resources. Each course tackles a specific topic.
The platform is designed to reach internet users around the world. Users in regions with poor connectivity are encouraged to download resources so interrupted electro-power supply or internet access will not disrupt their studies.
The courses are well designed in a didactical way. One must sign up to take part. Quizzes serve to check the progress learners make. A certificate is provided when a certain number of questions are answered correctly. These "badges" serve as an incentive for professionals who may want to document newly acquired knowledge.
The courses also provide options for chatting with peers, thus creating networks of like-minded individuals working on similar topics. Participants share experiences and discuss challenges. This approach helps to build global partnerships and campaign for stronger laws and more effective enforcement. Intercultural exchange on matters of global relevance can be quite fascinating – and valuable.
LEAP offers feedback sections where learners can state what they liked and disliked. On this basis, LEAP promises to improve its performance.
A weak point is that the language structure is rigid and, at times, boring. The jargon used and the syntax could be made more compact and less repetitive. Unfortunately, moreover, some courses were not accessible to students in January. Topics concerned included the UN Convention to Combat Desertification and the Stockholm Convention on Persistent Organic Pollutants.
LEAP is based on the Montevideo Environmental Law Programme, an intergovernmental effort to review and document legal regulations. It was first launched in 1982. The current version is the fifth in the series and spans the years 2020 to 2029. UNEP hosts the Programme's secretariat.
Suparna Banerjee is a Frankfurt-based political scientist.
mail.suparnabanerjee@gmail.com